Arcserve is the world's most experienced provider of backup, recovery, and immutable storage solutions for unified data resilience against ransomware and disasters.
Arcserve solutions eliminate complexity while bringing best-in-class, cost-effective, agile, and massively scalable data protection and certainty across all data environments. This includes on-prem, off-prem (including DRaaS, BaaS, and Cloud-to-Cloud), hyper-converged, and edge infrastructures.

Defend Against Ransomware
Tackle today's cyberattacks head-on with our award-winning threat prevention, detection, and ransomware recovery technologies.

When the worst happens, we make sure you get business operations running in an instant and avoid hundreds of hours of lost productivity.

Avoid costly business disasters and reputational damage from data loss. Our backup and recovery solutions ensure near-zero impact to your business.

Protect Cloud and On-Prem Workloads
Ensure your data and systems are always secure, accessible, and optimized with our best-in-class solutions.

Give your teams the gift of time by eliminating the need for complex system integrations and managing data protection from a single console.

Cut Data Protection Costs
Simplify your operations and drastically reduce your operating costs. We have the broadest and most affordable set of solutions in the market today.
Arcserve Unified Data Protection (UDP)
Arcserve Unified Data Protection (UDP) software delivers an all-in-one data and ransomware protection solution to neutralise ransomware attacks, restore data, and perform effective disaster recovery (DR).
Safeguarded by Sophos Intercept X Advanced cybersecurity, Arcserve UDP uniquely combines deep-learning server protection, immutable storage, and scalable onsite and offsite business continuity for a multi-layered approach that delivers complete IT resiliency for your customers' virtual, physical, and cloud infrastructures.
Arcserve UDP Secured by Sophos provides ransomware-free IT, enabling you to protect your customer's critical data from cyberattacks; detect and reverse ransomware encryption; respond with a "no" to ransom demands; and recover all systems and data safely.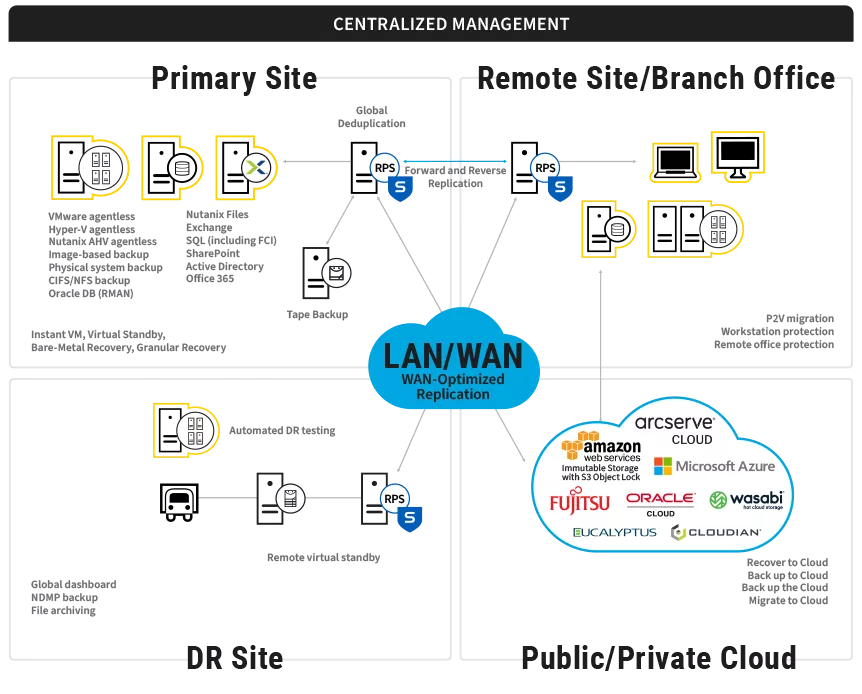 Back up to either a local machine or a central recovery point server (RPS) with global, source-side deduplication. A destination can be an RPS, local folder, or remote shared folder. Add network CIFS/NFS shares, Office 365 Exchange, or SharePoint online nodes, and create related tasks.
Easily scale hybrid business continuity topologies, locally or over long distances with multiple sites, including service and cloud providers. Installation is done in a few clicks. Create data stores on the recovery point server, add the nodes you want to protect, a storage destination, and a plan. Perform jobs such as backup, virtual standby, and replicate. Perform a simple restore or a bare metal recovery.
Fully protect a broad range of platforms, including: Windows, Linux, Amazon EC2, Microsoft Azure, Office 365 (Exchange Online, Teams, SharePoint Online and OneDrive for Business), Microsoft Exchange, MS SQL, file servers, Microsoft IIS, Microsoft Active Directory, Oracle Database with native RMAN support, VMware vSphere (agentless), and Microsoft Hyper-V (agentless), along with support of Nutanix Objects and Nutanix Files for protection of Nutanix HCI.
Hybrid DR in a Hyper-connected Economy
Contact us to find out how Titan and Arcserve UDP can help your customers, or to arrange a call and demo
SaaS vendors own the cloud infrastructure stack and all primary components that make up the service such as physical infrastructure, network controls, the operating system that hosts the application, controls for the application offered as a service, hardware components, and more.
But data—the critical component that powers your customer's business and is central to the service's relevance—is your own responsibility.
This is because SaaS vendors operate on a shared responsibility model, which means obligations are shared between the vendor and the customer.
Complete Protection for SaaS Data
Arcserve SaaS Backup offers complete protection for data stored in Microsoft 365, Microsoft 365 Azure AD, Microsoft Dynamics 365, Salesforce, and Google Workspace.
A simple setup that takes under 5 minutes, prior to starting protection
Broadest coverage for the most popular SaaS applications
A single pane of glass, with Multi-Tenant and Role-Based Access Controls (RBAC)
Immutable backups, using a blockchain-based algorithm, for ransomware resilience
Secure by design with data in-transit and at-rest, encrypted
30-day delete retention to protect from inadvertent deletions or ransomware attacks
Guaranteed data sovereignty with 4 copies of backups stored in 2 different data centres within the same region.
Automatic application updates without stopping active jobs
Arcserve UDP On-Premises Backup for Microsoft 365 Data
Comprehensive ransomware protection for Microsoft 365 data, with granular and instant recovery capabilities. Delivers high data deduplication with the data stored on-premises.
More than half of all businesses rely on Microsoft 365, yet the majority don't back it up. This leaves them exposed to cyberattacks and data loss caused by human error, intentional deletion, and programmatic issues.
Arcserve UDP software and Arcserve data protection appliances put you in control by ensuring data is securely backed up on-premises, while safeguarding backups from ransomware attacks with proven Sophos anti-ransomware and threat prevention technologies.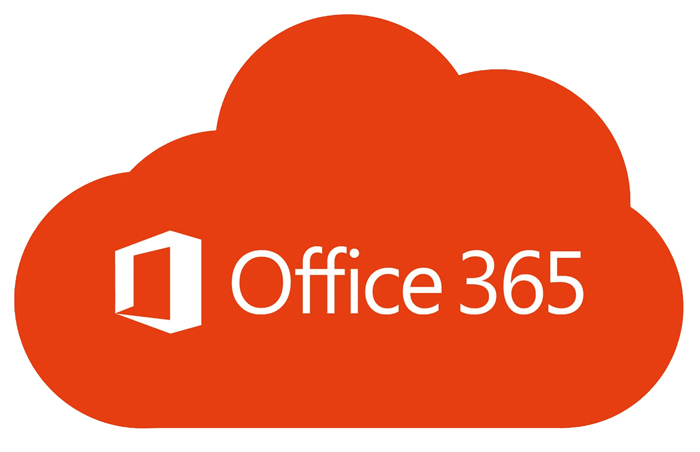 Contact us to find out how Titan and Arcserve SaaS Data Protection can help your customers, or to arrange a call and demo
Filer Server Consolidation
OneXafe delivers a highly scalable, available, and easily managed NAS solution designed to simplify storage management of unstructured data. OneXafe's continuous data protection provides unified data resilience against ransomware or user errors, ensuring that the information is always recoverable.
OneXafe's ability to scale capacity granularly makes it easy to cost-effectively manage the explosive data growth in healthcare, video surveillance, engineering, and other data intensive environments.
OneXafe's scale-out architecture provides a highly scalable, disk-based backup target for your customer's virtualised, as well as physical server environments – delivering scalability for ever-growing backup data with near-zero configuration of storage management tasks. Powerful reduction technologies such as inline and variable-length deduplication and compression ensure a cost-effective storage capacity footprint.
Contact us to find out how Titan and Arcserve OneXafe Immutable Storage can help your customers, or to arrange a call and demo